Rent or Buy Now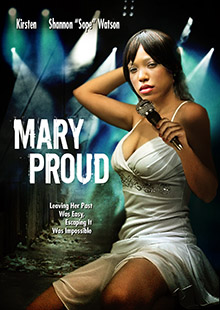 Mary Proud
Own It October 10, 2006
Genre: Drama
Runtime: 106 Minutes
UPC: MAV-5196, 824355519624
Storyline
Mary Proud is a single mother who finds stardom as a rhythm and blues singer at a high personal price. Living in Ohio, Mary and her little sister are separated by social services after they are abandoned by their disturbed and drug-addicted mother. Years later, strong-willed Mary finds herself in a nasty divorce with Gary, an unfaithful husband and church deacon. Her determination to provide a better life for her two children and to make a career in the music industry pays off when she meets AC Wells, a successful music producer from Atlanta. After relocating to Atlanta, Mary's career takes off, but she encounters a fresh set of problems after starting a volatile relationship with a rapper on AC's label, and a new drug habit. Mary is admitted to a rehabilitation program, and later is diagnosed as bipolar. After completing rehab, Mary is determined to recover her damaged career and her life. Finally, Mary realizes a new personal success, achieved by working to change her life toward a healthy and positive direction.
Directed By
Kirsten Person Ramey
Cast
Kirsten, Shannon "Sope" Watson, Felix Harden, Wesley Cook, Jerry Epps, Alex Gardner
About the Crew
Featuring Recording Artist Wesley Cook.