Rent or Buy Now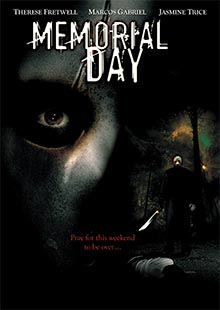 Memorial Day
Own It May 10, 2005
Genre: Horror
Runtime: 81 Minutes
UPC: DVD: MAV-5133, DVD: 824355513325
Storyline
Memorial Day… Pray for this weekend to be over!

Welcome to Memorial Lake -- where under the calm, icy surface, something unspeakable is waiting to rise.

Rachel can't remember the last time she feel asleep without hearing the screams from her past. Three years ago, her brother mysteriously died while she and a group of friends partied by the lakeside. And this weekend, she and her friends are returning to the very same lake to finally put her nightmares to rest. As they try to come to grips with what happened and admit that her brothers' death was an accident. Someone is waiting for her, someone who is a faceless killer. And as her friends start disappearing one by one, Rachel will discover whose identity is hidden behind the murderous mask. Is it just a stranger in the woods? Or is it someone she already knows?
| Directed By | Cast |
| --- | --- |
| Christopher Alender | Therese Fretwell, Marcos Gabriel, Jasmine Trice, Derek Nieves, Erin Gallagher, Andrew Williams, Adam Sterrit |
About the Crew
Horror is the new hot genre
Creepy killer on the loose with realistic blood and guts any true horror fan will rave.
Marketing push with Fangoria and Rue Morgue publications
Extensive internet push at top Horror websites.
Gallery
Gallery Images are Coming Soon.