Rent or Buy Now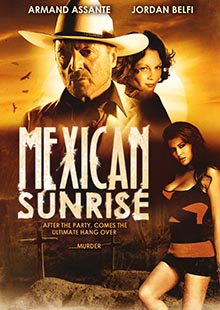 Mexican Sunrise
Own It March 04, 2014
Genre: Thriller
Runtime: 93 Minutes
UPC: MAV-5456, 824355545623
Storyline
MEXICAN SUNRISE is a gripping thriller that follows five friends on a south-of-the-border bachelor party. The night starts in typical bachelor form: booze, women and reckless behavior. Along the way something goes terribly wrong. Derek, one of the groom-to-be's friends' runs in to the local drug dealer, Paco. It turns out that Derek owes him some money so Paco decides to hold the bachelor hostage while he finds money to pay his debt. The party-going tale turns tragic when he comes up short and someone has to pay the price.
Directed By
Rowdy Stovall
Cast
Armand Assante, Jordan Belfi, William Gregory Lee, Reed Frerichs
About the Crew
Armand Assante has successfully portrayed a wide range of characters. From The Lord's of Flatbush (1974), to an army recruit in Private Benjamin (1980). He made a sensational team with Antonio Banderas in the film spectacular The Mambo Kings (1992). He was also impressive in the drama Hoffa (1992).
Best Feature Film award from Breckenridge Festival of Film
Best film award from World fest Ind Film Festival
Best film award from Bare Bones International Film Festival.
Audience award at the California Ind Film Festival.
Based on actual events.
Jordan Belfi - Known for his work on Surrogates (2009),and The Millionaire Tour (2012).
William Gregory Lee is an actor, known for Bitch Slap (2009).
Reed Frerichs is an actor and producer, known for Powder (1995) and Courage Under Fire (1996) and has been cast in many military type roles.
Gallery