Rent or Buy Now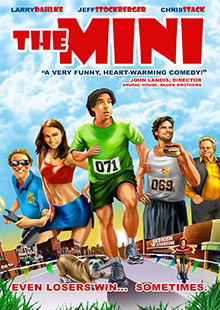 The Mini
Own It May 11, 2010
Genre: Comedy
Runtime: 87 Minutes
UPC: MAV-5345, 8-24355-53452-8
Storyline
Fran Molon is a down-on-his-luck futon salesman struggling to get by in a store where the only money is in mattresses. When his annoying co-worker suggests that the winner of the local mini marathon get the coveted assistant manager position Fran quickly agrees. Realizing that winning the race may be his only chance for success Fran trains everywhere, from interstates to flea markets to prepare. But does Fran have what it takes to beat his nasty co-worker in this winner-take-all-mattresses race to glory?
Cast
Larry Dahlke, Chris Stack, Jeff Stockberger, Angie Craft, Darrell Francis, Sally Noble Hager
About the Crew
"A very funny, heartwarming comedy!" - John Landis (Director of Animal House, Coming to America, Trading Places, The Blues Brothers, and the world renowned Michael Jackson Thriller video)
Won Best Comedy at the Bluegrass Independent Film Festival
Won Best Narrative Feature at the Foursite Film Festival
Won Best of Fest at the Temecula Valley International Film Festival
Won the Audience Award at the Da Vinci Film Festival
Official Selection - Los Angeles Dances with Films Festival, Big Island Film Festival, and the Audience Choice Film Festival
Chris Stack - "One Life to Live," The School of Rock, Evening
Circus-Szalewski - Farewell Darkness, The Rockville Slayer
Gallery
Gallery Images are Coming Soon.