Rent or Buy Now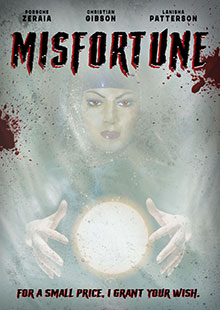 Misfortune
Own It October 04, 2022
Genre: Horror
Runtime: 68 Minutes
UPC: MAV-5833, 824355583328
Storyline
When tragedy hits, Rachel is left with more than regret, leaving her bound to a wheelchair and her best friend Sammy's brother Brian with a brain injury. Looking for a new outlook on life, Rachel finds comfort in a new home with more than she bargained for in the form of a fortune teller arcade game, offering her one wish. Will she succeed in bringing her friends back from a detrimental past or will it be misfortune for them all?
Produced By
Trevor Ford, Chris Davison
Directed By
Trevor Ford|Chris Davison
Cast
Porsche Zeraia, Christian Gibson, Lanisha Patterson
About the Crew
360 Film Group was founded by Trevor Ford and Chris Davison. Trevor Ford was a well known music producer in Houston Texas. For over 20 years Trevor has produced many mainstream musicians thus switching lanes towards the film world. Trevor and Chris are known for Brick City (2019), Queen the Awakening (2020), and Purgatory (2021).
Porsche Zeraia is an actress and writer, known for Brick City (2019), CompleX, and Purgatory (2021).