Rent or Buy Now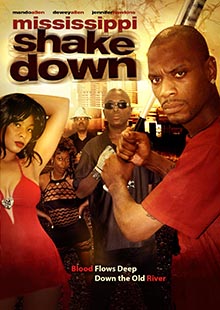 Mississippi Shakedown
Own It June 10, 2014
Genre: Action
Runtime: 96 Minutes
UPC: MAV-5465, 824355546521
Storyline
Business deals in Mississippi are conducted through gun toting, double crossing strippers, who will do anything for money. Sip,(Mando Allen), a born hustler, leaves remains of those who cross The Sip Boyz. Things turn sour when they unknowingly steal from a Baton Rouge drug lord. Little do they know, the man sent Black,(Dewey Allen), a heartless hit man in for retribution. Mississippi Shakedown takes you into the shady underground world of drugs, money and women.
Cast
Mando Allen, Jennifer Hawkins, Tikoyo Brooks, Kibwe Jones
About the Crew
Depicts Urban life if Mississippi.
Stars the Allen Brotherz - Dewey and Mando Allen.
Gallery