Rent or Buy Now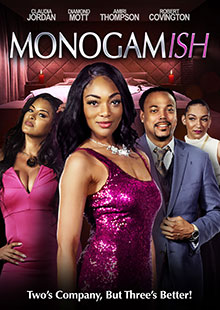 Monogamish
Own It January 17, 2023
Genre: Thriller, Romance
Runtime: 91 Minutes
UPC: MAV-5930, 824355593020
Storyline
Successful realtor Zane is living the American dream: a perfect NFL Husband, a nice house and a growing business; until the day her husband presents her with a request. He wants to be polyamorous. Fighting to save her failing marriage, she learns he is in debt to a drug lord and her business is failing. Unknown to her, plans are in motion that will change her life forever.
Produced By
Marquand Ragland, Matthew Smith, Eric Huynh
Directed By
Marquand Ragland
Cast
Claudia Jordan, Amiri Thompson, Diamond Mott, Robert Covington
About the Crew
Marquand Ragland is a director and producer known for Take me To Amazing (2022), Crossover (2022), The Christmas Spirit (2022), and Rainey Storms (2023).
Claudia Jordan is former Miss USA turned actress and TV show host known for her segments on Fox Soul, The Apprentice (2009-2015), The Real housewives of Atlanta (2014-2021), Sharknado 5 (2017), and Gutter (2022).
Diamond Mott is an actress known for Suga Babies (2021), Tiffany the Doll (2022), and Monogamish (2023).
Amiri Thompson is an actor, writer, and director known for Drowning (2016), Crossover (2020), and The Dating Game (2021).