Rent or Buy Now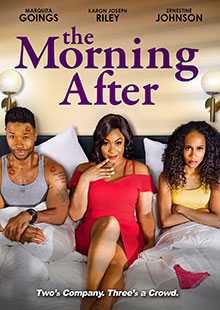 The Morning After
Own It August 31, 2021
Genre: Comedy
Runtime: 49 Minutes
UPC: 824355570922, MAV-5709
Storyline
After Michael & Tiffany end their five-year relationship, they awaken to find they've switched bodies. Now they are forced to work together to live each other's lives, while doing all they can to make sure friends and coworkers don't suspect a thing.
Produced By
Jack Carter, LaShon Carter, Tenia Wright, Javier McIntosh
Directed By
Javier McIntosh
Cast
Karon Joseph Riley, Marquita Goings, Ernestine Johnson
About the Crew
Karon Riley is an Ex-NFL player turned actor known for Marry Me for Christmas (2013), Insatiable (2018), Ambitions (2019), Little (2019), and Pinch (2020).
Ernestine Johnson is an actress known for Think Like a Man Too (2014), Ambitions (2019), and BET Her Presents: The Waiting Room (2019).
Marquita Goings is known for her work on Cooking Up Christmas (2020) and Behind the Movement (2018).