Rent or Buy Now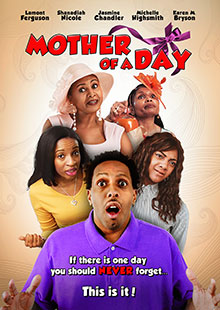 Mother of a Day
Own It February 04, 2020
Genre: Comedy
Runtime: 75 Minutes
UPC: MAV-5625, 824355562521
Storyline
A man who forgets his wedding anniversary angers one woman. Imagine angering four of the most important women in your life on the same day! That's what happens when one man does something unthinkable and seemingly unforgivable ...HE FORGETS MOTHER'S DAY! Ben Wilson has one hour to sneak out of his house and find adequate gifts for the four moms in his life - his wife Mary, daughter Abby, mother Ruth and mother-in-law Mother Dunbar - or face their wrath!
Cast
Lamont Ferguson, Shanadiah Nicole, Malachi Dewitt, Karen M. Bryson, Ron Bianchi, Jasmine Chandler, Michelle Highsmith
About the Crew
Butch Maier is a writer, director, and producer. Mother of a Day is his second feature and it opened as the No. 1 movie in the U.S. with a black lead, per theater, on May 4, 2019.
His first feature, the romantic comedy 'The Bride and the Grooms', appeared in theaters in 12 states. His Christmas version of that script was optioned by a company behind 'John Wick.'.
Lamont Ferguson is a standup comedian and makes his debut as the lead actor of a feature film in 'Mother of a Day'. His first appearance on stage was in a French play. Since then, he has been in reenactments for the Discovery Channel, local and national commercials, numerous stage plays and short films.
Karen M. Bryson is a professional actress, dancer, poet and writer. Her other movie credits include 'The Gate Way', 'Affairs of State', 'The Depths' and 'Our Nation'. Karen has appeared on television in 'Power', 'Nightmare Next Door', 'Blindspot', 'Marvel's Agent Carter', 'Blue Bloods', 'Law & Order: SVU', 'Orange is the New Black', 'House of Cards', 'Bull', 'Youngers' and the children's show 'SCRUNCH.'.
Shanadiah Nicole has been acting in theater and film for 28 years. She appears in multiple commercials (including Optima in 2019), videos, film festivals, stage plays, fashion shows and movies. She helps facilitate the arts within the community as a board member of the Virginia Production Alliance and other organizations. Along with dancing at the altars of many churches, she also stage manages, works in wardrobe and production.
Gallery