Rent or Buy Now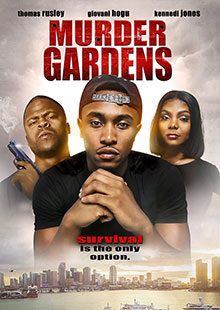 Murder Gardens
Own It November 19, 2019
Genre: Thriller
Runtime: 100 Minutes
UPC: MAV-5620, 824355562026
Storyline
Murder Gardens is the story of Chase Washington, a 19-year-old young man whose world has been turned upside down after he leaves a comfortable home provided by his foster father for a life of crime and corruption that he's introduced to by his older brother Rell Washington. Chase ends up in the middle of a war between a notorious crew of drug dealers, corrupt politicians and local law enforcement. Determined to survive and prove that the brain is mightier than the gun, Chase finds a way to outsmart his new found enemies and keep him and his brother Rell out of prison and a graveyard.
Produced By
Mark A. Samuels, Daniel Deien, Ricardo Pradel
Directed By
Mark A. Samuels
Cast
Giovanni Hogu, Thomas Rusley, Kennedi Jones
About the Crew
Mark Samuels is an writer, director, producer and production manager known for Murder Gardens (2019), Christmas Eve (2018), O-Girls (2017) and the A.V Club (2017).
Giovani Hogu is an established Hip Hop artist with a rising internet fan base having songs with over 30,000 plays nationwide on Soundcloud, itunes and Apple Music . He has also performed and opened for some of hip hops biggest acts such as Da Baby, Lil Durk and more.
Bertrand Boyd is an actor known for his upcoming role in Lena Waithe's new film 'Queen & Slimm'.
J.J Crowne is an actor known for his recurring role in 'Graceland' (USA), Every Witch Way (Nickelodeon) and multiple NBC/Telemundo novellas.
Will Jackson is an actor known for his role in 'Homeland', 'Law & Order : Special Victims Unit', 'NCIS: New Orleans', 'Constantine', and 'Burn Notice'.
Kennedi Jones is an actress, model and DJ. She is currently the official DJ for pop star Macy Kate and touring the USA/UK with her.
Gallery