Rent or Buy Now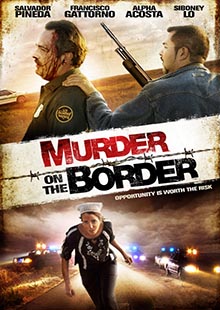 Murder on the Border
Own It January 03, 2006
Genre: Drama
Runtime: 98 Minutes
UPC: MAV-5169, 824355516920
Storyline
Hispanic attorney Eduardo Martinez's life is turned upside down when his family decides to cross the border illegally. At the same time, officer Rick Scalo, is charged with the shooting death of a young latino boy at the US/Mexican border and Eduardo is assigned to defend him. A virtually impossible case to win becomes even more challenging when Scalo, using his border patrol connections, is able to extort Eduardo into winning the case in exchange for his family's safe border passage. Attractive reporter Nivea Rodriguez decides to help Eduardo, but will she be able to reach his family in time, or will Scalo's cronies make them disappear forever?
Directed By
Juan J. Frausto
Cast
Gabriel Traversari, Alpha Acosta, Siboney Lo, North Roberts, Roberto Huicochea, Raul Duran, Rachelle Naveira, Lauro Lopez, Rosaysela Frausto, special appearance by Salvador Pineda, and Francisco Gattorno
About the Crew
Murder On the Border is packed with Notable Stars including:

Siboney Lo, whose role in El Leyton won her a Best Actress Award at the Miami Latin Film Festival.
Salvador Pineda, widely known for his extensive Telenovela career expanding more than 28 years.
Francisco Gattorno, another TV veteran, and Alpha Acosta, well know Mexican telenovela star.
Gabriel Traversari, host of E! Latin America.