Rent or Buy Now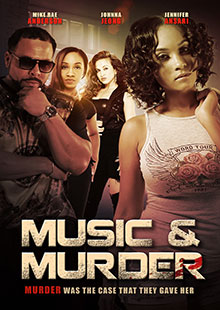 Music & Murder
Own It June 23, 2020
Genre: Thriller
Runtime: 104 Minutes
UPC: MAV-5657, 824355565720
Storyline
Not every rags to riches story arrives via a clean cut straight and narrow path. Sometimes long after the rags have been replaced with Versace, the stench from the counterfeit mindset lingers longer than a starlet would like.
Produced By
Greg Galloway, Desiree Gaither, Terre S. Carter
Directed By
Greg Galloway
Cast
Mike Rae Anderson, Jennifer Ansari, Johnna Jeong
About the Crew
Greg Galloway is a director and producer known for The Anatomy of Love (2010), The Substitute Spy (2019), and Addiction by Subtraction (2019).
Mike Rae Anderson is an actor and producer known for Shutter (2017), Crossbreed (2019), and Stolen Lilies (2020).
Johnna Jeong is an actress and composer, known for The Shadow Effect (2017), Music & Murder (2020) and The Deadly Welcoming (2019).
Supa Peach is a rapper with about 2 million Instagram followers and has made appearances in Jermaine Dupri's Lifetime TV Series 'The Rap Game' (2016), Groove Street (2018), and Music & Murder (2020).
Jennifer Ansari is an actress, known for Domestic Seduction (2017), Atonement (2018), and Famously Afraid (2019).