Rent or Buy Now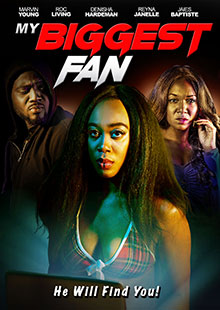 My Biggest Fan
Own It February 15, 2022
Genre: Thriller
Runtime: 77 Minutes
UPC: 824355578522, MAV-5785
Storyline
Money rolls in when Britney begins online modeling with friends. When one fan wants more, things turn deadly.
Produced By
Johnnard Harper, Kyle Lee, Sergio Leroy, Hildlene James
Directed By
Johnnard Harper
Cast
Denisha Hardeman, Roc Living, Marvin Young, Reyna Janelle, Jaies Baptiste
About the Crew
Johnnard Harper is a writer, director, and producer known for Captured (2018), Behind Closed Doors (2020), and 3 Way (2021).
Denisha Hardeman is an actress known for Captureed (2018), I Got the Hook Up 2 (2019), and 5th Ward (2018-2020).
Roc Living is an actor known for The Foreign Exchange Student (2015), Don't Shoot (2020), The House Guest (2021).