Rent or Buy Now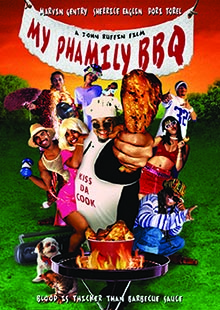 My Phamily B.B.Q.
Own It July 08, 2003
Genre: Comedy
Runtime: Minutes
UPC: MAV-5031, 824355503128
Storyline
What do you get when you combine 'Soul Food' and 'Friday'? You Get My Phamily B.B.Q. This is the story of three families who come together after 4 years apart for a giant family reunion with grandma and grandpa. In this family you have your rivalries, kissing cousins, badass kids, cheating husbands and drug dealers. Not to mention someone is about to be drafted in the NBA, and someone brings their new white lover to the reunion. Whew, if you think that isn't drama, auntie can't let go of the past and uncle can't cook the B.B.Q. This family put the 'Phat' in Phamily.
Directed By
A John Ruffin Film
Cast
Marvin Gentry, Sherrice Eglin, Dori Torel, Devin Wesley
About the Crew
Comedy and Humor are the backdrop to this realistic tale of a family BarB.Q..