Rent or Buy Now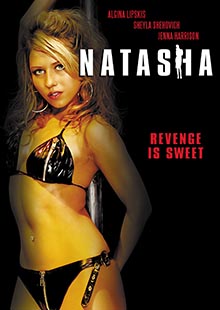 Natasha
Own It November 06, 2007
Genre: Erotic/Thriller
Runtime: 87 Minutes
UPC: 8-24355-52462-8, MAV-5246
Storyline
A young and spirited exotic dancer flees her native Russia after witnessing the murders of her boss and her cousin, Natasha. Arriving in a small village in England, she assumes her dead cousin's identity, and befriends the local vicar's daughter, Christine. When secretly taken photos of the two making love are posted on a porn website, the Russian gangsters finally track her down. With the help of a sexy, but aggressive, Russian policewoman, the vivacious "Natasha" eludes the criminals.
Cast
Algina Lipskis, Sheyla Shehovich, Jenna Harrison, Natasha' Serena Gordon, Richard Lintern
About the Crew
From the Director of the steamy, "Private Moments", Jag Mundhra.
A young exotic beauty caught in vicious circle of sex and violence
Gallery
Gallery Images are Coming Soon.