Rent or Buy Now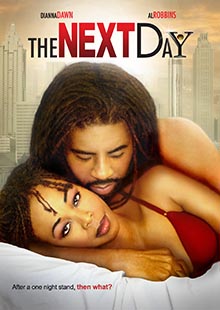 The Next Day
Own It May 13, 2014
Genre: Thriller
Runtime: 79 Minutes
UPC: MAV-5449, 824355544923
Storyline
Will and Desire' meet at a bar and have a one night stand, resulting in an unexpected pregnancy. Shortly after, Desire' sees Will's cousin Ike shoot someone and becomes a witness in the investigation. Five years later after Ike has left town, and Will's name has been cleared, Desire reveals a shocking secret.
Cast
DeAnna Dawn, E. Roger Mitchell, Al Robbins, Christopher Martin
About the Crew
E. Roger Mitchell Movies: Flight, Battle Los Angeles, Hunger Games Catching Fire.
Yakini Horn (Firelight - ABC TV, Necessary Roughness - USA Network).
DeAnna Dawn (Madea's Family Reunion,The Fantasia Barino Story.
Official Selection 2012 - Langston Hughes African American Film Festival.
Official Selection 2012 - Black Harvest Film Festival; Chicago.
2012 Finalist - Peachtree Village Int'l Film Festival; Atlanta, GA.
Official Selection 2012 African Diaspora Int'l Film Festival - NYC.
Best Narrative Feature Film-San Francisco 2012 Int'l Black Women's Film Festival.
Gallery