Rent or Buy Now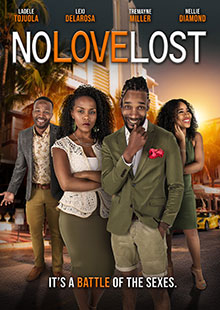 No Love Lost
Own It February 05, 2019
Genre: Thriller, Drama
Runtime: 124 Minutes
UPC: MAV-5577, 824355557725
Storyline
After finalizing their divorce Noah and Moriah find themselves going from lovers to roommates. Moriah has moved on already and began dating her co-worker Anthony, 6 months before the divorce was final. Noah is still in love with her but find himself falling for a waitress named Rochelle. Rochelle, with the help of his best friend Quincy, give Noah the motivation to stand up to Moriah in situations where he would be meek to say the least. Noah and Quincy also find themselves battling women issues, Quincy with his boss, Yvette, of which he's having a sexual relationship with; and Noah who battles Moriah's new man, Anthony, and Rochelle's old one, Casey.
Produced By
Ricky W. Jean-Francois and Robert Moise
Directed By
Ricky W. Jean-Francois
Cast
Tremayne Miller, Lexi Delarosa, Nellie Diamond, Meggie Cherilus, Ladele Tojuola, Michael Xavier, Sybille Gee, Marquez Q. Wimberly
About the Crew
The filmmakers of 'No Love Lost' have branded themselves as 2klife in South Florida and have made numerous popular web series such as 'Close Friends', 'Diary of a Cheating Man', 'The New', and 'Wade's World'.
Ricky W. Jean Francois is a producer, director and writer known for most of the web series from 2klife including Close Friends (3 seasons), Diary of a Cheating Man, and No Love Lost.
Lexi Delarosa is a model, actress, and radio host known for Love and Reality, A Miami Love Story, and Zoe911.
Meggie Cherilus is an actress, known for The Education of a Negro (2019), Hollywood Horrors (2017) and Case Management (2018).
Gallery