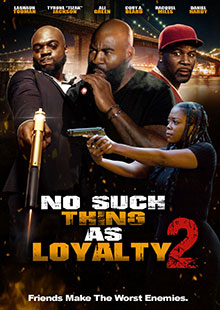 No Such Thing as Loyalty 2
Own It March 14, 2023
Genre: Crime, Thriller
Runtime: 100 Minutes
UPC: MAV-5964, 824355596427
Storyline
James is out of jail, and is looking for Darnell to get a piece of his lotto winnings, but Darnell feels differently. Now enemies they both find themselves fighting the battle to stay alive, but the death of a close friend changes everything.
Produced By
Tyrone Tizak Jackson
Directed By
Tyrone Tizak Jackson
Cast
Tyrone Tizak Jackson, Ali Green, Lashaun Todman, Cory A. Beard, Racquel Mills, Daniel Hardy
About the Crew
Tyrone Jackson is an actor and director known for Turned Out (2019), Betrayal (2019) and Infidelity (2021).
Ali Green is an actress known for I Got This 2 (2019), Turned Out (2021), and No Such Thing as Loyalty (2022).