Rent or Buy Now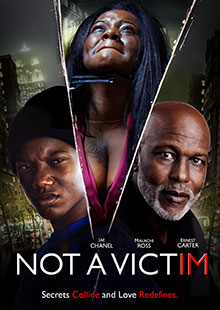 Not a Victim
Own It August 29, 2023
Genre: Drama
Runtime: 74 Minutes
UPC: MAV-6005, 824355600520
Storyline
After almost being trafficked by her father, Jim's ex-affiliates, May'gene returns home from rehab ready to heal in love. Chaos strikes once more, and Jim must fight to keep his family from falling apart.
Produced By
Jae Chanel, Joel Bender, Charles B. Unger
Cast
Jae Chanel, Malachi Ross, Ernest Carter
About the Crew
Jae Chanel is the founder of Jae'Chanel Productions LLC. She is known for providing resources, empowering communities along producing creative theatre and film projects. Jae Chanel's development of her production company has allowed her to promote community-focused events, activities, and art projects, demonstrating skillful leadership to our future generation. The organization has also provided and funded resources for many local families in need, (i.e, food, clothing, housing, etc.) while engaging the community promoting various entertainment projects.