Rent or Buy Now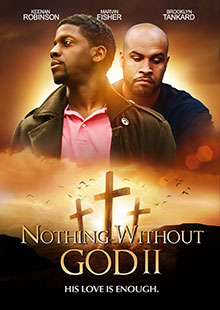 Nothing Without God 2
Own It May 19, 2020
Genre: Inspirational
Runtime: 87 Minutes
UPC: MAV-5638, 824355563825
Storyline
This is the second excerpt in the story of Keenan Robinson, a recent college graduate struggling to keep his head above water and finding his true calling in life. Keenan takes his younger foster brother Marvin under his wing to help guide him to a better walk with GOD. They face many life challenges and obstacles together including life and death decisions. Even though Keenan has his own set of personal difficulties he has to overcome, he realizes that this life is not all about himself and he has a calling to help others by GOD.
Produced By
Keenan Robinson
Directed By
Keenan Robinson
Cast
About the Crew
Keenan Robinson is a Director/Actor/Writer and Educator. He's written Picking Up What You're Putting Down and Crumbs from the Masters' Table and featured in Esquire magazine, local newspapers, radio and TV. He is the Director/producer of Nothing Without God which is one of Maverick's top sellers and Closer to God.
Brooklyn Tankard better known as Queen Brooklyn, is known for Bravo TV's Thicker Than Water: The Tankards (2013-2016), Hav Faith (2016), and NWG 2.
Gallery