Rent or Buy Now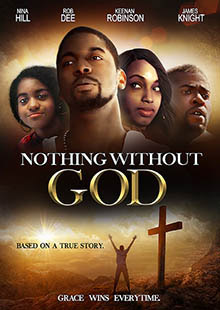 Nothing Without God
Own It May 17, 2016
Genre: Inspirational
Runtime: 74 Minutes
UPC: MAV-5514, 824355551426
Storyline
This story is a true tale of a young man accepted to college and struggling to achieve against heavy odds. Because of a drug addicted mother and absentee father, he is adopted by an abusive foster family and then bounces around from family to family. He's been told he is a failure most of his life, until he meets a teacher who helps to change the direction of his life and realize that a negative environment does not define who you will become. To rise above, he realizes that he is nothing without God's support.
Directed By
Keenan Robinson
Cast
Keenan Robinson, Nina Hill, James Knight, Rob Dee
About the Crew
Director/Actor/Writer and Educator Keenan Robinson is also a man of God.
He's written Picking Up What You're Putting Down and Crumbs from the Masters' Table and featured in Esquire magazine, local newspapers, radio and TV.
Special Appearances by Chrisette Michelle and WQQK On-air personality, Kenny Smooth.
Gallery