Rent or Buy Now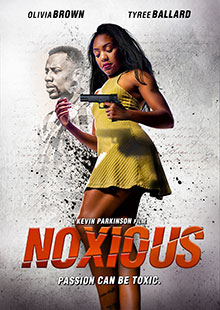 Noxious
Own It November 12, 2019
Genre: Thriller
Runtime: 62 Minutes
UPC: MAV-5621, 824355562125
Storyline
Events over the course of one traumatic night in Georgia unfold as the reckless Kennedy discovers her lovers darkest secrets.
Produced By
Kevin Parkinson, Wesley Jones, Marquis Mosley, Duvall Parkinson
Directed By
Kevin Parkinson
Cast
Olivia Brown, Tyree Ballard, Lyric Donnell, Nadine Jackson, Estellar Nelson, Trevon Porter, Trent Uher
About the Crew
Kevin Parkinson is a producer and director, known for Valley of the Queens (2017), Noxious (2018) and Madly Unto Eternity (2012).
Nadine Jackson is an actress and producer, known for Dying to Live (2017), The Coldest Kiss (2014) and Stealing Sunrise 2: Malibu Trail (2017).