Rent or Buy Now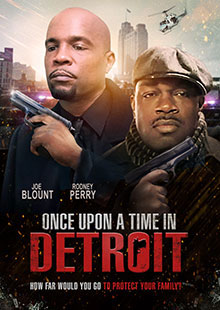 Once Upon a Time in Detroit
Own It November 21, 2017
Genre: Action, Drama
Runtime: 104 Minutes
UPC: MAV-5541, 824355554120
Storyline
Defense Attorney Robert 'Bobby' Johnson is on a hot streak. Having overcome his upbringing on the unforgiving streets of Detroit, Bobby is a winner. But every winner ruffles some feathers along the way, and Bobby isn't shy about sticking it to the District Attorney's office and the police. With a new love and his career taking off, nothing can stop him. That is until a family tragedy sends him down the dark, twisted path of a life of crime.
Cast
Joe Blount, Rodnery Perry, Arlen "Griff" Griffin, Howie Bell
About the Crew
Rodney Perry is a writer and actor known for many films 'Johnson Family Vacation' (2004), 'Madea's Big Happy Family' (2011), 'Mr. Right' (2015), 'Conflict of Interest' (2017), Family Time(2014-2017) and many more.
Richard Mason is known for his work on I Promise (2014), Who Do Men Say That I Am (2010) and Silencer: Welcome Charlie (2014).
Howie Bell is an actor and writer, known for BET's Comicview (1992), Blackson's Basement (2014) and Detroit Unleaded (2012).
Gallery