Rent or Buy Now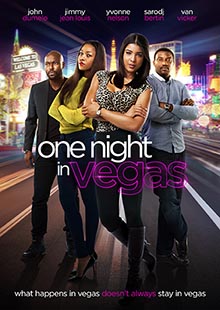 One Night in Vegas
Own It October 21, 2014
Genre: Comedy
Runtime: 94 Minutes
UPC: MAV-5474, 824355547429
Storyline
James Foster, a man at a crossroads with himself and his marriage. After the end of a successful high profile case, James decides a trip to Vegas with his wife Genie. This is a good way to rekindle their relationship and an opportunity to say thank you to his friend, Nick for his help. When events unfold, sometimes it's best not to mix friends and passion. One Night in Vegas is a thrilling Hollywood movie about relationships, friendship and betrayal.
Cast
Jimmy Jean-Louis, Yvonne Nelson, Sarodj Bertin, John Dumelo, Van Vicker, Kobe Maxwell, Fatima Cisse, Sandra Fon Dufe
About the Crew
One Night in Vegas won 4 Nollywood & African Film Critics' Awards (NAFCA).
Best Cinematography, & Best Supporting Actor in a Diaspora Film - Jimmy Jean Louis.
Favorite Male Artist Diaspora - Koby Maxwell.
Jean-Louis is well known for his starring role as The Haitian in the hit television series, Heroes. He has performed beside Glenn Close, Bruce Willis, Harrison Ford and Matt Damon.
Starring in the film is Sarodj Bertin, a former runway model and Miss Haiti Universe 2010.
Gallery