Rent or Buy Now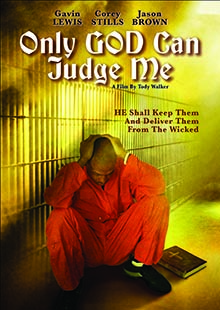 Only God Can Judge Me
Own It September 06, 2005
Genre: Drama
Runtime: 90 Minutes
UPC: DVD: MAV-5122, DVD: 824355512229
Storyline
David Marshall stands accused of his cousin's murder. As he awaits the jury's deliberation, memories of his past flash before his eyes. He risks losing everything forever. In this, his darkest hour, only a strong faith in God can bring him salvation.
Cast
Gavin Lewis, Corey Stills, Jason Brown
About the Crew
Another great addition to the Maverick Spirit Label.
Feel good movie about the trials of young men and how depsite it all their families love and pray for them.
The power of prayer can help in desperate times.
Gallery
Gallery Images are Coming Soon.