Rent or Buy Now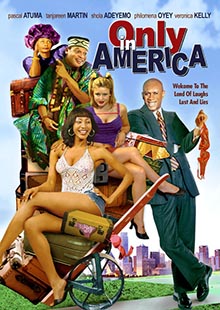 Only In America
Own It July 11, 2006
Genre: Comedy
Runtime: 73 Minutes
UPC: MAV-5162, 824355516227
Storyline
A young Nigerian, Mandela (Pascal Atuma, Spiderman Two) has come to America and successfully made his fortune. However, not as an American lawyer as expected by his Nigerian chief father. Mandelas made a comfortable living selling pot from the back of an ice cream truck, and married a sexy American Black woman, Diamond (Tanjareen Martin, Johnson Family Vacation). Following the birth of their baby, Mandelas parents arrive to see their first grandchild and their successful attorney son.Now Mandela must come up with a law office and pose as an attorney in order to a live up to his parents dreams. The farce becomes more complicated and the cultural dysfunction only gets worse. The Nigerian family and the American in-laws soon find themselves mixed up in a circus-like spectacle of love, sex, money, drugs that could happen ONLY IN AMERICA.
Directed By
David DeCrane
Cast
Shola Adeyemo, Philomena Oyey, Veronica Kelly, Daniel Patterson, T. A. Taylor, Robynne Young
About the Crew
Only In America A Fun & Sassy Cross-Cultural Comedy with HOT Urban Actors.