Rent or Buy Now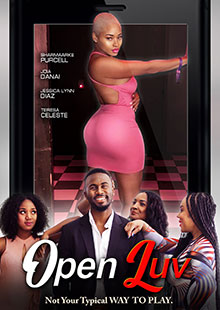 Open Luv
Own It January 31, 2023
Genre: Comedy, Romance
Runtime: 79 Minutes
UPC: MAV-5909, 824355590920
Storyline
Reeling from a recent break-up with his girlfriend of two years, Anderson Hunt, is convinced by his well-meaning friends to get back out on the dating scene, by using an app for alternative lifestyles.
Produced By
Reuben Johnson, Shunell Johnson, Marcellas Johnson
Directed By
Reuben Johnson
Cast
Sharmaarke Purcell, Joia Danai, Jessica Lynn Diaz, Teresa Celeste
About the Crew
Reuben Johnson is director, writer, and producer known for John Wynn's Playhouse (2021), Get the Bag (2021), and A Lover's Secret (2021).
Sharmaarke Purcell is an actor known for Pick a Side (2021), Trimmer (2022), and Open Luv (2023).
Teresa Celeste is an actress with almost 1 million followers on Instagram, known for Wild 'N Out (2019), How High 2 (2019), and Trophy Wife (2022).