Rent or Buy Now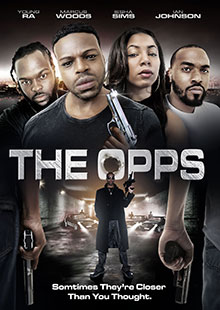 The Opps
Own It September 07, 2021
Genre: Crime, Drama
Runtime: 81 Minutes
UPC: MAV-5707, 824355570724
Storyline
Ain't no rules to this street game! Realizing the "Opps" are sometimes closer to you than you thought: who do you trust? Your devious wife, or childhood friends?
Produced By
Quanita Delgado, Joseph Elmore, Gerald Conway, Eric L. Covington
Directed By
Richard "Young Ra" Brown
Cast
Marcus Woods, Young Ra, Iesha Sims, Ian Johnson
About the Crew
Richard aka Young Ra has proven that he is a multifaceted entertainer of fathomless talent. From rapper, actor, songwriter, producer, writer and director, he personifies what it candidly means to be an entertainer.
He is most known for The Bodie Bradus Story (2021), Truthless (2021), Tho Opps (2021) and Making It (2021).
Marcus Woods is an actor, known for Empire (2015), Fakers (2020) and Heavy Hustle (2020).
Earnest Lee is an actor, known for Detroiters (2017), Chicago P.D. (2014) and Werewolf Island (2020).