Rent or Buy Now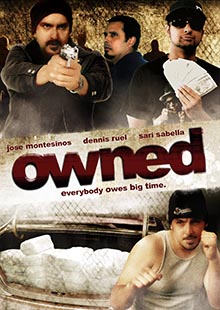 Owned
Own It July 12, 2011
Genre: Action
Runtime: 80 Minutes
UPC: MAV-5376, 824355537628
Storyline
After serving years in prison, Cisco is finally free and ready to put the past behind him. But, his hopes are shattered when a drug dealer confronts him about a $10,000 debt. He is now forced to face his only option in clearing the debt: kill a rival drug dealer and risk going back to prison. He thought he was free from his past debts and mistakes, only to find out that they own him for good.
Directed By
Jose Montesinos
Cast
Jose Montesinos, Dennis Ruel, Sari Sabella, Miguel Padilla, Aileen Lawlor, Kyra Gordon, Troy Carbonel
About the Crew
Giovannie Espiritu - 'ER', 'EXIT Stage Left'.
A suspenseful action movie that will have you guessing till the end!.
A compelling film that will appeal to the masses.