Rent or Buy Now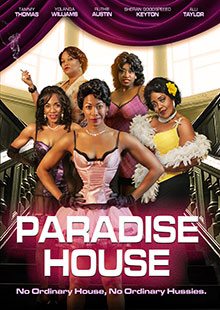 Paradise House
Own It October 26, 2021
Genre: Comedy, Drama
Runtime: 98 Minutes
UPC: MAV-5719, 824355571929
Storyline
Follow the exploits inside "Paradise House", a "coloreds only" brothel run by madam Lula May, in 1950's Texas. When Lula May is presented with an unexpected request, she is forced to make a tough decision, that ultimately alters her lifestyle.
Produced By
Tammy Thomas, Robert Ligans III, James Hayes
Directed By
Arthur Muhammad
Cast
Tammy Thomas, Yolonda Williams, Sheran Goodspeed Keyton, Ruthie Austin
About the Crew
Arthur Muhammad is a director known for Carter High (2015), First Impressionn (2018), and Gutta Mamis (2020).
Tammy Thomas is an actress, writer and producer with a career span of over 25 years in the radio, television and film industry. Tammy has written and produced both full feature and short films of all genres, from comedy to drama, scifi and everything in between. She splits her time between Atlanta & Dallas and is the proud co-owner of EDEWEMESEY films.
Ruthie Austin is an actress known for Edges (2019), Stolen in Plain Sight (2020), and Under the Stadium Lights (2021).