Rent or Buy Now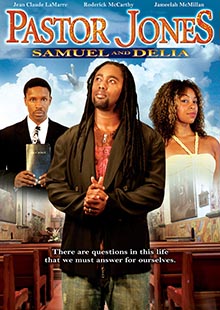 Pastor Jones: Samuel and Delia
Own It February 12, 2008
Genre: Drama
Runtime: 80 Minutes
UPC: MAV-5185, 824355518528
Storyline
Samuel Sutherland, a charming and charismatic Pastor, is about to discover the true meaning of faith, prayer and forgiveness. Haunted by a tragic past and shunned by his friends and supporters, he begins to lose faith. After Samuel's world is turned upside down he finds himself on the street with just the clothes on his back and the good book in his hand. With nowhere to go but up, Samuel sets out on a journey to rediscover himself.
Directed By
Kenneth Johnson
Cast
Jean Claude LaMarre, Roderick McCarthy, Jameelah McMillan
About the Crew
Starring Jean Claude LaMarre (County General, Go For Broke II, Pastor Jones, and Pastor Jones Help Save My Daughter) in his most famous role yet, Pastor Jones.
Get the next Gospel Hit in the Markets Hottest Selling Genre
Gallery
Gallery Images are Coming Soon.