Rent or Buy Now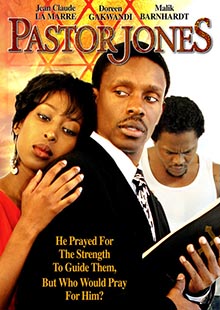 Pastor Jones
Own It November 01, 2005
Genre: Gospel
Runtime: 94 Minutes
UPC: MAV-5157, 824355515725
Storyline
Regina is in an abusive marriage and her best friend is sleeping with her husband (Tyron Carlson). After attending Pastor Jones' sermon and speaking with him, she gets the courage to put her faith in God and leave home. With no place to live and no job, Pastor Jones, recently widowed, gives Regina a job and a room in his house. Gossip flies in the church and her angry husband, Tyron, seeks revenge. Remarkably, Pastor Jones touches Tryon in a sermon on TV. Down in the gutter and lost without his wife, he seeks help from the church, through prayers; he is guided back to a happy marriage. At the same time, Regina learns to stand up for herself. Pastor Jones guides this couple and his church to happiness.
Directed By
Jean Claude LaMarre
Cast
Jean Claude LaMarre, Doreen Gakwandi, Larry "Flash" Jenkins, Malik Barnhart, Tricia Daye, Cecilia Peniston
About the Crew
Urban Gospel film appeal to Christian market.
Quality film delivering a message.