Rent or Buy Now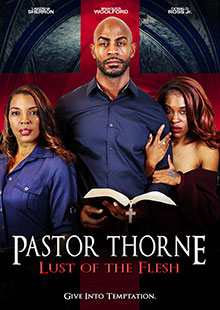 Pastor Thorne: Lust of the Flesh
Own It September 13, 2022
Genre: Drama
Runtime: 102 Minutes
UPC: MAV-5871, 824355587128
Storyline
Pastor Jacob Thorne has a prominent church and a stellar reputation in his city; however, as his fame continues to grow, it is also blinding him causing him to lose focus on what really matters: his family. However, once his son blows into town, his life begins to go on an unexpected whirlwind that could cause his life to take an unwanted spiral downhill.
Produced By
Karlton T. Clay
Directed By
Karlton T. Clay
Cast
MarQues Woolford, Lakeisha Sherron, Donald Ross Jr.
About the Crew
Karlton T. Clay is a writer and director and has written, produced, and directed several theatre productions, short films, and 15 web series including Sweet Mahogany (2020), Reindeer Games (2020), Sweet Mahogany 2 (2021), and Redemption for Easter (2021).
MarQues Woolford is an actor known for What's Your Chocolate? (2015-2018), Redemption for Easter (2021), and The Assistant (2021).