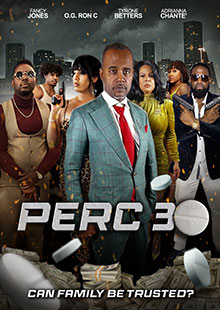 Perc 30
Own It October 17, 2023
Genre: Crime, Drama
Runtime: 127 Minutes
UPC: MAV-6000, 824355600025
Storyline
Shavonne Perkins has taken control of the biggest Percocet operation in Houston, TX. Her father Bapo, the head of the Perkins crime family, is in the midst of transferring his entire drug operation over to his youngest son, Brandon, knowing that the other children will not take the news lightly. Soon after the announcement, a price is put on the entire family's head. Bullets fly, lives are lost, and the family look to each other as to which one of them is responsible.
Produced By
Joseph A. Elmore Jr., Candy Gonzalez, Linda A. Wu, Troy Wooten
Directed By
Joseph A. Elmore Jr.
Cast
Fancy Jones, O.G. Ron C, Tyrone Betters, Adrianna Chante'
About the Crew
Joseph A. Elmore Jr. is a writer, director, and producer known for How to Get Away with Cheating (2018), Complex (2021), Gutter (2022), Platinum (2022), and 10 Reasons Why Men Cheat (2023).
Tyrone Betters is an actor known for No Better Love (2022), A True Christmas (2022), Gunns Down (2023), and DIRT (2024).
Fancy Jones is an actress known for Dirty Thirty =, Guns Down (2023), and False Profits (2024).