Rent or Buy Now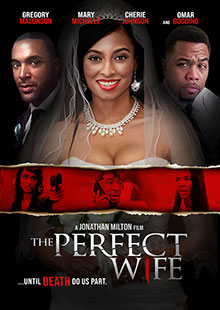 The Perfect Wife
Own It August 20, 2019
Genre: Thriller
Runtime: 81 Minutes
UPC: MAV-5603, 824355560329
Storyline
A young freelance photographer in Houston meets a beautiful determined teacher from Atlanta. His best friend tries to warn him about her. There is something a little strange about Claudia. Q loves her dearly but she may not be The Perfect Wife.
Produced By
Jonathan Milton, Justin Milton. Tonyai Palmer, Johnnard Harper
Directed By
Jonathan Milton
Cast
Omar Gooding, Antwon Tanner, Cherie Johnson, Gregory Malonson
About the Crew
Jonathan Milton is a director and producer known for The Foreign Exchange Student (2017), Do's and Don'ts of Dating (2018) and Captured (2019).
Omar Gooding is an actor who has appeared in Smart Guy ('97-'99), Baby Boy (2001), The Gospel (2005), Percentage (2014), Before 'I Do' (2017), and is currently on Bounce TV's, Family Time (2012-2018).
Antwon Tanner is an actor and producer, known for Never Die Alone (2004), Coach Carter (2005), One Tree Hill (2003-2012) and Percentage (2014) and Two Faced (2017).
Cherie Johnson is an actress, writer, author and producer who rose to fame at the age of 6 when she appeared in the Punky Brewster (1984-1988), Family Matters (1990-1998), Dead Tone (2007), and The Intruders (2017).
Gallery