Rent or Buy Now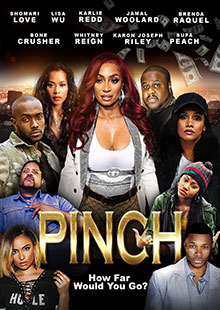 Pinch
Own It December 22, 2020
Genre: Thriller
Runtime: 74 Minutes
UPC: MAV-5649, 824355564921
Storyline
A talented MC uses larceny to fund his dreams of becoming a rap star, but his life changes when he meets Allie, now the once self-centered thief is transformed into the Robin Hood for the hood.
Produced By
Greg Galloway,Desiree Gaither, Lisa Wu, Terre S. Carter
Directed By
Greg Galloway
Cast
Shomari Love, Brenda Raquel, Karon Riley, Jamal Woolard, Lisa Wu, Karlie Redd, Supa Peach, Bone Crusher, Whitney Reign
About the Crew
Greg Galloway is a director and producer known for The Anatomy of Love (2010), Music & Murder (2018), The Substitute Spy (2019), Addiction by Subtraction (2019), and Stolen Lilies (2020).
Shomari Love is an actor known for Music & Murder (2017), Black Lightning (2018), and The Chi (2019).
Karon Riley is an actor known for The Morning After (2018), Little (2019), and Ambitions (2019).
Karlie Redd is an actress, producer, and reality star known from Love & Hip-Hop Atlanta/New York (2012-2020), Saints & Sinners (2016-2018), I Left My Girlfriend for Regina Jones (2019).
Jamal Woolard is an actor known for playing Biggie in Notorious (2009), All Eyez on Me (2017), The Fearless One (2017), and City of Lies (2018).
Lisa Wu is a producer and actress known for The Real Housewives of Atlanta (2008-2017), Providence Island (2017), First Impression (2018), and Professor Mack (2019).
Gallery