Rent or Buy Now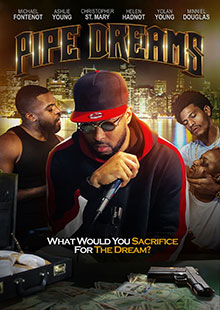 Pipe Dreams
Own It September 13, 2022
Genre: Crime, Drama
Runtime: 115 Minutes
UPC: MAV-5858, 824355585827
Storyline
Legacy and Jax have been in the dope game since they were kids, born hustlers living fast and playing for keeps. The only things they cared about was money, respect, and family. Legacy would do anything to take care of his family. But he was growing tired of constantly watching his back and the drama that came with fast money. His music was his only option out of the drug life, but how much will he and the ones close to him sacrifice for the ultimate dream?
Produced By
Contrina Jenkins, Carlos Wallace
Directed By
Contrina Jenkins
Cast
Michael Fontenot, Ashlie Young, Christopher St. Mary, Helen Hadnot, Yolan Young, Minniel Douglas
About the Crew
Contrina Jenkins is a writer, director, and producer known for Definition of Manhood (2020), Fair Play (2022), and Pipe Dreams (2022).
Christopher St. Mary is an actor known for The Foreign Exchange Student (2015), Fair Play (2022), and Dilemma (2022).