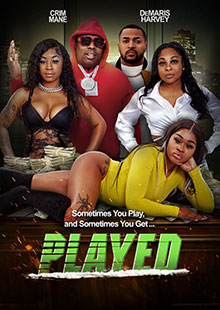 Played
Own It December 05, 2023
Genre: Thriller
Runtime: 87 Minutes
UPC: MAV-6019, 824355601923
Storyline
A big time drug dealer and his fashion model girlfriend are ready to settle down and get married. However, he falls to temptation with a woman who could crush everything he has built.
Produced By
Robert L. Parker III, Criminal Mane
Directed By
Robert L Parker III
Cast
Crim Mane, Lataska Hinton, Kerri Perry, DeMaris Harvey, Desiree Robinson
About the Crew
Criminal Mane is a rapper from Memphis and he is a member of The Project Playaz. He's been making music since 1993 and recently crossed over into film. He's known for films such as Da Neighborhood Dopemane (2023), Played (2023), and Toxic Affair (2023).
Kerry Perry is an actor known for Deceptive Intentions (2020), Lot Lizards (2022), and Sweet Revenge (2022).