Rent or Buy Now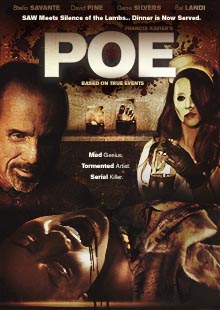 Poe
Own It May 08, 2012
Genre: Horror
Runtime: 85 Minutes
UPC: MAV-5383, 824355538328
Storyline
A serial killer seeks out writer Johnathan Poe, a descendant of the famed writer Edgar Allan Poe, with an offer to write his biography. Intrigued by rumors of gruesome cannibalistic rituals, Poe agrees to the undertaking. However, he is forced to witness terrifying horrors without the ability to escape or help the captured victims. Has Poe become the latest character in this serial killer's terrorizing plot?
Directed By
Francis Xavier
Cast
Stelio Savante, David Fine, Gene Silvers, Sal Landi
About the Crew
Special effects makeup was led by Jerry Constantine - part of the Oscar winning team for THE CURIOUS CASE OF BENJAMIN BUTTON.
Stelio Savante - Ugly Betty, My Super Ex-Girlfriend, Bad Ass, All My Children.
David Fine - The Pursuit of Happyness, The Funny Man.
Mike Iorio - My Super Ex-Girlfriend.
Sal Landi - General Hospital.
Greg Travis - Showgirls, Watchmen.