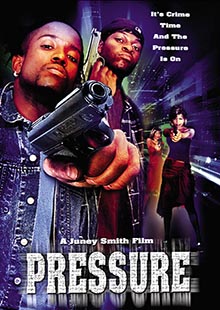 Pressure
Own It August 06, 2002
Genre: Action
Runtime: 90 Minutes
UPC: MAV-5000, 824355500028
Storyline
Bo and Mouse, two New York City armed robbers are bored of running easy stick-ups for little profit and decide drug dealing is where the money is at. But in order for them to get in the game, they need start up cash. They hook-up with a numbers runner, jewel thief and a corrupt lawyer in a scheme that pays off, bringing in some big money. But partners get greedy and double cross each other, someone gets murdered and Bo and Mousey's criminal life suddenly, becomes constant pressure.
Cast
Tawfiq, Jomo Kellman, Kenya Woodruff
Gallery
Gallery Images are Coming Soon.