Rent or Buy Now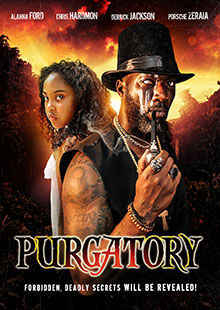 Purgatory
Own It June 22, 2021
Genre: Horror
Runtime: 84 Minutes
UPC: MAV-5698, 824355569827
Storyline
Grieving widower, Bernard, is approached by a spiritual healer and a voodoo high priest with an enticing offer to reconnect with his late wife, Sophia, in the afterlife. In the process, Bernard faces spirits, demons, and life-altering secrets.
Cast
Alanna Ford, Chris Hardmon, Derrick Jackson, Porsche Zeraia
About the Crew
360 Film Group was founded by Trevor Ford and Chris Davison. Trevor Ford was a well known music producer in Houston Texas. For over 20 years Trevor has produced many mainstream musicians thus switching lanes towards the film world. Trevor and Chris are known for Brick City (2019), Queen the Awakening (2020), and Purgatory (2021).
Porsche Zeraia is an actress and writer, known for Brick City (2019), CompleX and I'm Still Breathing (2018).