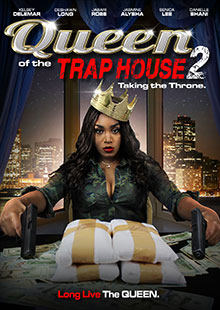 Queen of the Trap House 2: Taking the Throne
Own It July 19, 2022
Genre: Crime, Thriller
Runtime: 82 Minutes
UPC: MAV-5822, 824355582222
Storyline
Kionna has taken full control of her dead boyfriend's drug empire. She has taken the throne to become the official Queen of the Trap House. However, a new man steps into her life causing her to shift focus away from the criminal enterprise. Kionna also begins dealing with new enemies from rival drug gangs to law enforcement. Kionna will now need to show everyone what a true Queen does to maintain power.
Cast
Kelsey Delemar, Deshawn Long, Jabari Rose, Jasmine Alysha, Senica Lee, Danielle-Shani
About the Crew
Jeff Profitt is an actor, director, and producer known for Street Stories Never Die (2017), Inside the American Drug Game (2017-2018), and Queen of the Trap House (2021).
Kelsey Delemar is an actress known for Thanksgiving with the Carters (2019), Liam White: The Forgettable Life of Liam White (2021), and Queen of the Trap House (2021).
Danielle-Shani is an actress known for Masse (2015), Residue (2017), and Looking in the Mirror (2021).