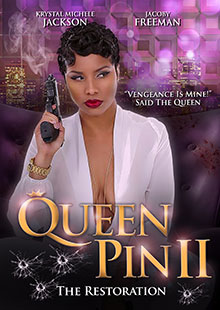 Queen Pin 2
Own It September 08, 2020
Genre: Action, Thriller
Runtime: 96 Minutes
UPC: MAV-5666, 824355566628
Storyline
After the rivalry in their home town of Jacksonville Florida and the death of their original Queen Pin. Lil Miller and Killer left the game and handed over the thrown to their team member Knowledge. They are now running a major record label, families of their own, and have turned in to legitimate CEO's. But when tragedy hits their old team and one of their members are gunned down this leaves the whole team with no connect and prices on their heads. Lil Miller and Killer must return home and finish what they started. Theirs a new Queen Pin in town and she is out for a vengeance.
Cast
Krystal Michele Jackson, Jacoby Freeman
About the Crew
Gin X is a director, writer, and producer. She is the owner of a boutique production company MDS Entertainment. She has worked on various urban films and music videos. She has now written, directed, and produced 4 feature films, Queen Pin, Queen Pin II, Before My Eyes, and Bakerz Union.
Krystal Michele is an actress known for Queen Pin, Before My Eyes, and Blood of My Brother.
Jacoby Freeman is an actor known for Queen Pin and Before My Eyes.