Rent or Buy Now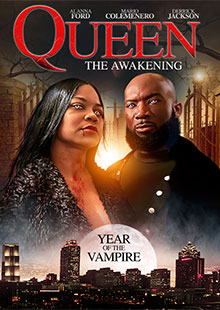 Queen the Awakening
Own It November 10, 2020
Genre: Horror, Thriller
Runtime: 94 Minutes
UPC: MAV-5669, 824355566925
Storyline
This is a story about Vampires and the struggle for rulership amongst the elders and elites. Humanity is at stake and if the wrong House is nominated for rulership it could be doom for the living.
Produced By
Trevor Ford, Chris Davison, Porsche Zeraia
Cast
Alanna Ford, Derrick Jackson, Mario Colenmenero, Porsche Zeraia, Scott Bazile
About the Crew
360 Film Group was founded by Trevor Ford and Chris Davison. Trevor Ford was a well known music producer in Houston Texas. For over 20 years Trevor has produced many mainstream musicians thus switching lanes towards the film world. Trevor and Chris are known for Brick City (2019), Queen the Awakening (2020), and Purgatory (2021).
Porsche Zeraia is an actress and writer, known for Brick City (2019), CompleX and I'm Still Breathing (2018).