Rent or Buy Now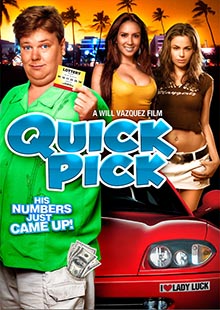 Quick Pick
Own It August 07, 2007
Genre: Comedy
Runtime: 86 Minutes
UPC: MAV-5251, 824355525120
Storyline
Eddie not only as no luck with the ladies, he's an addictive gambler who's a loser at cards as well. Not even threats of eviction by his landlord and threats of death by his bookie's thugs, can stop Eddie from buying his daily lottery ticket. Incredibly, the loveable loser may just be the sole lottery winner of the 135 million dollar jackpot. There's only one problem... he can't remember where he put the lottery ticket. Eddie enlists the help of his two best buddies to help him search for the misplaced ticket. Fueled by greed, their madcap adventure takes them all over Miami's South Beach. Will Eddie finally get lucky?
Directed By
Williams Vazquez
Cast
John Bryant, Anna Moreno-Nava, Angelina Assereto, Oscar Diaz, Andy Sottilare, Ralph Diaz-Wagner
About the Crew
The Perfect Screwball Comedy Flick that will keep you Laughing till the end.
In the tradition of 'It Could Happen to You' this clever little comedy packs a punch!.