Rent or Buy Now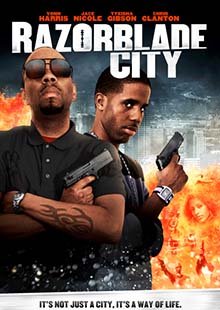 Razorblade City
Own It December 07, 2010
Genre: Action
Runtime: 90 Minutes
UPC: MAV-5366, 824355536621
Storyline
Razorblade City is 'bout to get real ugly, real fast.' When Kingston is framed for the murder of King Leroy's son he becomes the target of the hood's two most ruthless gangsters. All hell breaks loose as he tries to clear his name and find the identity of the person who framed him. Will Kingston make it out of the gun smoke with his life, or will he fall victim to the sharp edge of Razorblade City?
Directed By
Richard Johnson
Cast
Vonn Harris, Jace Nicole, Tyeisha Gibson, Gary Fletcher, Gabe Baez, Chris Clanton, Paul Wiedecker, Mike Alban
About the Crew
Chris Clanton - 'The Wire', Torn.
Paul Wiedecker - Torn, Can't Complain.
Jace Nicole - Torn, Cookies and Cream.
Gabriel Baez - Can't Complain.