Rent or Buy Now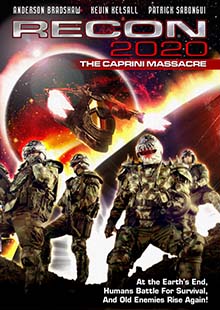 Recon 2020: The Caprini Massacre
Own It December 05, 2006
Genre: Action
Runtime: 89 Minutes
UPC: MAV-5216, 8-24355-52162-7
Storyline
In the year 2020, the Earth has become a barren rock from radioactive devastation. Protected by the Galactic Marine Infantry, (GMI), the remaining human race, struggling for survival on a distant star, is terrorized by the evil Ma'har alien race. While on a reconnaissance mission in the Caprini system, Sergeant Sharp and his GMI soldiers discover the Ma'hars hidden laboratory where they've been creating a horrific breed of terrorists. The aliens' new bio-weapons are reproductions of mankind's mythical creatures - zombies, werewolves, vampires…
Sergeant Sharp and his elite squad find themselves in an action-packed battle with the bloodthirsty monster assassins. But, the greatest danger of all may be from a former GMI soldier with a grudge, who now works for the deadly Ma'hars. This science fiction thriller delivers an edge-of-your-seat adventure loaded with explosive battles, exciting special effects and bizarre alien creatures!
| Directed By | Cast |
| --- | --- |
| Christian Viel | Anderson Bradshaw, Kevin Kelsall, Patrick Sabongui, Gillian Leigh, Valerie Wiseman, Johnny Goar |
About the Crew
• Awarded The Best Sci-Fi/Action Movie by the SCI-FI-LONDON FILM FESTIVAL 2005
• Official selection/FANTASIA INTERNATIONAL FILM FESTIVAL 2004
• "Keep an eye on this director. . . , he's proved he can take a familiar genre, flip its clichés on their ear and turn out one heck of a fun film." -The Hitman, HorrorTalk.Com
Gallery
Gallery Images are Coming Soon.