Rent or Buy Now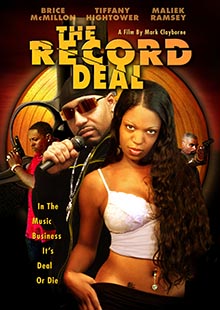 The Record Deal
Own It April 01, 2005
Genre: Action
Runtime: 91 Minutes
UPC: MAV-5114, 824355511420
Storyline
A rap artist is betrayed by the CEO of his record label when he lies and refuses to pay him a million dollars in back royalty money that is due to him. Instead the CEO used the money to make drug deals with the Russian Mafia, which left the struggling artist with loads of debt and nowhere to turn. Not wanting to give up, he teams up with his brother, a narcotics cop, and the DEA to set the CEO up. But when one of the undercover tactics goes bad the rap artist is forced to take the CEO and others as hostages until his demands are met. One quickly finds out in the music business, its deal or die.
Directed By
Mark Clayborne
Cast
Brice McMillion, Tiffany Hightower, Maliek Ramsey, Mikeah Jennings, Dave Knapp
About the Crew
Directed by acclaimed director of DVD hit, 'Bling Bling'.
Hot music, Hot Girls and lots of gangster action.