Rent or Buy Now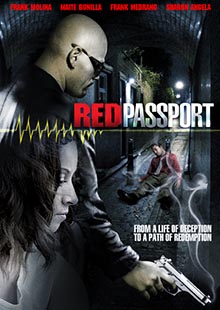 Red Passport
Own It August 01, 2006
Genre: Thriller
Runtime: 93 Minutes
UPC: MAV-5181, 824355518122
Storyline
A counterfeit artist's early release from his 25 year sentence, surprises everyone he left behind, and not in a good way. To peacefully rekindle his relationship with his long-lost daughter, he must pay back his old crime boss for his arranged early release with phony bills made from missing money plates. His search for the plates takes him on a roller-coaster ride of deception, lies, suspense and murder, and nothing turns out to be as it seems. Starring Frank Molina, (Stone Cold Killers) and Sharon Angela, (The Sopranos).
Directed By
Albert Xavier
Cast
Frank Molina, Maite Bonilla, Frank Medrano, Sharon Angela, Bobby De Jesus, and Alipio "Coco" Cabrera
About the Crew
A suspenseful thriller that will have you guessing till the end!

Great Key art Campaign appealing to Urban and Latino Demographic!