Rent or Buy Now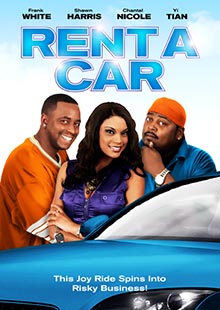 Rent a Car
Own It July 13, 2010
Genre: Comedy
Runtime: 86 Minutes
UPC: MAV-5350, 824355535020
Storyline
The hilarious story of a rental car business owner named 'D-Stacks' and his dedicated, but sometimes demented, employees. Business is booming and even 'Little Man' is taking his job as 'Manager' seriously, until one fateful day when big-shot 'Boogie White' rents a car and mistakenly returns it with $10,000 dollars in the trunk. Now 'D-Stacks' has only 72 hours to replace the money. Lucky for him, one of his employees is a talented musician, but will his single be amazing enough to make $10,000 in 72 hours? Maybe not, but with friends, hookups, and a killer hood concert, it just might.
Directed By
Lakisha Lemons; Marcus Jones
Cast
Frank White, Shawn Harris, Chantal Nicole, Yi Tian, Rodney Yarbrough
About the Crew
Shawn Harris - B.E.T.'s Comic View, A Gangland Love Story, Dark Secret, The Blues.
Chantal Nicole - Won Best Actress at the Action On Film International Film Festival for her role in Maid to Kill, American Dream.
Jeffry J. Griffin - Dip Your Feet in Devil's Water; Paradise, Texas; A Gangland Love Story.
Beny Schwarzt - LoveLine, A Gangland Love Story.
Frank White- Independent rap label owner.
Rodney Yarbrough - B.E.T. Comedian.